Heimann- Bahr-Beyer
Eva Heimann Bahr (Barr)
My Maternal Great Grandmother
Strasburg, Germany
Eva Heimann Wohlleber was born near Strasburg, West Prussia, Germany, now Brodnica, Poland. Her parents were Peter and Louise Heimann. Birth records for Eva and her siblings were found on familysearch.org, from the Evangelisch-Lutherische, Strasburg, Westpreussen, Preussen. Her siblings were August: 24 May 1849; Frederich Wilhelm: 25 Jan 1852; Ferdinand: 31 Dec 1852; Eva's twin Gottfried: 07 Oct 1855; Elisabeth: 09 Jun 1858; Herman: 11 Dec 1860; Augusta: 13 Mar 1864.
Two of Eva's sisters, Mrs Christian Byers (Augusta) and Mrs. August (Elizabeth) Zimmer married and moved to America.

Eva married Karl Bahr (spelling changed to Barr when they came to America), and bore him seven children. Three of their children apparently died in Germany, according to information on tapes made by Eva's grand-daughter Inez Johnson and the census records. In May of 1883, Karl accompanied his brother-in-law Chris Byers to the United States, leaving Hamburg, Germany and landing in New York, on the ship Rugia. Karl took a job in the coal mines of Scranton, Pennsylvania, while Chris Beyers apparently went on to Minnesota. While working in the coal mines, Karl had a fatal accident. He was killed on the day of his son Gus's birthday. The man who rented a room to Karl took it upon himself to send an account of Karl's death to Eva. He did not have the address, so he had to wait until he received a letter from Elizabeth Zimmer. Letter Regarding Carl Bahr


Marriage to John Wohlleber
Coming to the United States
In 1884, Eva accompanied her sister Mrs Christian (Augusta) Byers to America. She brought her two children, Bertha and Gus and left the other two daughters, Mary and Elva, with their paternal grandmother in Germany. It is not known where their ship landed. They left from Hamburg. After meeting Christian (Chris) Byers in Minnesota, they took a train to Mitchell, South Dakota. Gus went on to the Ipswich/Roscoe area in South Dakota with his aunt and uncle Beyers. His story was captured on tape by his son-in law Dick Puhlman and his grandson Zale Puhlman.

Story of Gus Barr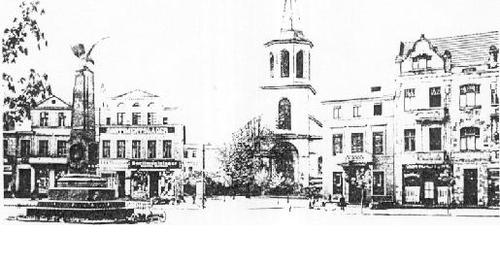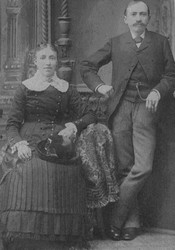 John and Eva Wohlleber 1884
According to the 1900 and 1910 Census, Eva and John were married in 1884. Records show my Grandpa John was born in Watertown, SD in 1885. The Watertown South Dakota census of 1886 shows them living in Watertown in 1886.
Picture of Strasburg, provided by Zale Puhlman
Mitchell was made the county seat in November 4, 1880. In September of that year, it also became the US land office, which served ten counties east of the Missouri River. It was a focal point for prospective homesteaders and a market place as well. By 1883, the population was 1000, doubling the following year, and again in 1884, with 4,000 residents.
Life in Codington County, South Dakota