SURNAME: PUGH
John Pugh
My family is so fortunate that my Grandpa Clem Pugh recorded the memories of his parents and their early days. Thanks also to my cousin Gloria for transcribing for him. His memoirs have been a guide for me, and the root of my passion for genealogy. John Pugh was my father's Grandfather. Clem Pugh's Memoirs

According to Grandpa, John Pugh was born in County Mayo, Ireland, in the year 1842, the 15th day of August. However since that time we found John was born to Patrick Pugh and Ellen Denneny, from County Meath.
Grandpa thought John was the eldest of the family. He had two brothers, Jim and Frank and a sister, Kate. She passed away at the age of 12. He had an Uncle Jim who came to the States in the early 1850's and it was through him that John came over. His uncle sent him money for his fare. John came in the year of 1856 at the age of 14.

There was a James Pugh living in the same county in Iowa as John and his brother James in 1870. If not the Uncle James, he is most likely a relative of John's. The families had very similar naming patterns, and they were Catholic. James Pugh GEDCOM

John's first job was a water-boy for a railroad crew. He later worked in the building trade. He was what they called a hod carrier. His job was to carry the bricks and mortar up to the brick layers. As time went on, he saved and sent transportation for his two brothers. They also worked in New York City for a time but they all started West, each going their separate way. Grandpa said they were separated for years not knowing where each other was; that it was in the early 1900's that they found out where each other was living.

After leaving New York City, John landed in St Louis, Missouri, where he worked on the Levees on the Mississippi River. About that time they were starting to build the Union Pacific Railroad from Omaha, Neb., West. He started working in the spring of 1865. He worked with it until the year of 1869, May 19th. At this time the crews from the west met the crews from the east at Promontory Mountain where they drove the Golden Spike. He told Grandpa that it was a great thrill. He also told stories of the Indian raids; they tried to steal clothes and supplies from camp. After he left the Union Pacific, he came to Cedar Rapids, Iowa and still worked at railroading. He worked with the Rock Island Railroad Company.


Family of Julia Merritt
Grandpa's mother, Julia, was born to Mr and Mrs. Micheal Merritt. He thought they were Scotch and Irish. He said she had three sisters and two brothers. They came to Iowa from Ohio by covered wagon in the early 1860's. They settled on a farm near Mechanicsville, Iowa. He said he never knew his mother's family too well and only remembered seeing some of her sisters and brothers once.
John married Julia Merritt October 27th, 1872 and for a few years they farmed, but John still had the railroad in his blood, so he went back to work for the Rock Island. To this union, eleven children were born. Six of them died at a young age and are buried in Neola, Iowa. Grandpa said there was an epidemic of smallpox and diphtheria. His brother Jim never came to Dakota. He worked on the railroad and was killed in an accident in June of 1909.

John and family moved from place to place while railroading. Grandpa was born in Weston, Iowa. They lived beside the railroad in the section foreman house, actually rooms above the Depot. His brother, Ray was born in Wiota, Iowa, and from there John was transferred back to Atlantic, Iowa. His brothers, Jim, John and Kate also lived in Atlantic.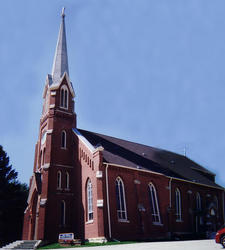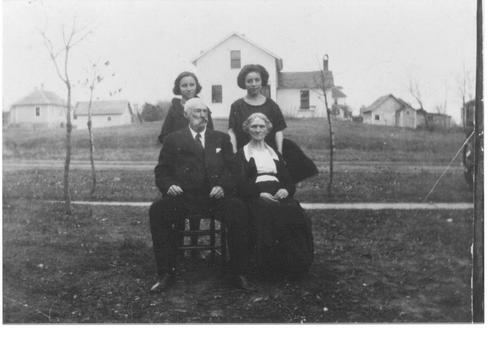 John and Julia Pugh, with grand-daughters Julia and Mary Morrissey, 1922 Summit, South Dakota
St Patrick's Catholic Church Neola, Iowa
My uncles always told me that our name was originally French, that Pugh was either DePugh or LaPugh. They said the name was changed when the family came to Ireland, as the "Irish did not like the French". They said the family had land, but had to leave because of religious persecution. After working on the family tree, I was quite convinced the family lore was wrong; as all the genealogical information on Pugh says it is a Welsh name.
In 2001 we took a genealogical trip through Iowa. While in Atlantic, we found the census records for John in 1895- he was listed as DePugh. We thought that was strange, but thought D may have been his middle name. We went to Neola, Iowa looking for the gravesite of Grandpa's siblings. We were told there were no burial plots for Pugh. As a joke, my husband asked if there was anything for DePugh, and she said there were two plots purchased by John Depugh, but no one was buried there. We went there anyway, and found one headstone, with all 5 names and at the foot of the headstone it said, "Children of John and Julia DePugh". For some reason, John tried to take back the original name.
So it appears the family lore was right on. Research suggests our family could have been Hugonauts, leaving in the mid 1600's, but I think they left during the French Revolution and the first sighting of Pughs in County Meath was about that time. If John tried to take back his name I suspect it was more recent that the Hugonauts.