SURNAME: PUGH
Clem Pugh
In June of 1907, John Pugh asked the railroad for a pass so he could visit his sister-in law Mrs George Evans, in South Dakota. While visiting in Summit, he met a man named Sharf who needed help on his farms. John told him he was getting ready to retire from the railroad, and Sharf asked if he would like to try farming. He said he needed a foreman on his ranch southwest of Twin Brooks, SD. After some thought John decided to take the job. He was to receive $55.00 per month the year round-that was $5.00 more than he received from the railroad. My Grandpa got $25.00 per month and through busy times his brother Ray was to get $15.00. They considered that a lot of money.





Other Pughs in South Dakota
Arriving in Twin Brooks South Dakota 1907
So in August of 1907, they landed in the town of Twin Brooks. They stayed at the Twin Brooks Hotel, which is currently the post office. Besides John and Julia, Grandpa and his brother Ray, he wrote that his sister, Mrs. Pete (Kate) Morrissey and her children Steve and Julia were also with them. He also said his 99 year old grandmother was with them. No one in the family ever thought to ask Grandpa who the grandmother was. I suspect it was John's mother, as his maternal grandmother was already dead, but my Grandpa never mentioned that she came over from Ireland. My aunts remember Grandpa talking about a Grandma Jenny. GEDCOM for Jane and Patrick Pugh, possible parents to John Pugh
The Twin Brooks Fire: October 1907
In those days, they stacked the grain. Grandpa said the hay was all cut and stacked when a prairie fire came through from South Shore and burned everything in it's path. In those days there weren't any phones in the country, so farmers would go from farm to farm and relay the coming fire. He said they rounded the animal into the coral and plowed a few furrows around the buildings, but they lost everything except a small field of corn.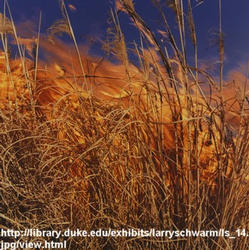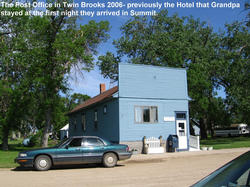 Starting Again
Mr Sharf looked after a farm SE of Summit, and sent Grandpa up there to plow, with three horses and a walking plow. He had never plowed a furrow prior to that. He was 15 years old and he did the whole 40 acres by himself. He was given a cot, a small two burner oil stove, bacon and eggs, potatoes and bread. The first night he heard a rustling outside his window; after that, he moved his cot out with the horses. He said it was too quiet in the old house.
Later, John bought the three horses from Sharf plus three more and another walking plow. Later tha fall, he bought eleven cows for $ 25.00 a piece. He took in a few sales and bought a binder, drill and a boss harrow. Grandpa said they were in business.
October 18, 1907 Summit Signal
Prairie fires have been doing quite a bit of damage east of here. It made a clean sweep of about 75 square miles. Among those who property was destroyed was HA Sharf, he lost about 200 tons of hay and a setting of oats.
Oct 17th, 1907 Grant County News
Visit of Fire Fiend. Destructive Prairie Fire Lays Waste Thousands of Tons of Hay, Grain and Property in the Hills. Started in the Vicinity of South Shore, It Traveled Northward to Marvin and East to the Village of Twin Brooks.
[Probable] the most destructive prairie fire that has visited this section of the county for years raged Wednesday and today in Mazeppa and Twin Brooks townships and as a result thousands of tons of hay, considerable grain in fields and several farm buildings lay in ashes and many acres of pasture are entirely destroyed.
The fire was started on the Potratz farm in Codington county, near South Shore, Wednesday afternoon and traveled with such rapidity that it reached Twin Brooks about 1:00 in the afternoon, having swept away everything in its path.
Everybody who was able got out and fought fire to save their lives and property and the fire was controlled before it reached the village of Twin Brooks. It destroyed the buildings on the Busta farm one mile south and a mile west of the village together with several hundred bushels of barley and other feed, burned Willie Neckels flax which was stacked in the field, destroyed the buildings and hay and grain on the farm operated by Chas. Pfifer and thousands of tons of hay for others in the neighborhood among whom was Loren Jones and Chas Stevens.
At this writing it is impossible to give anything like an accurate account of the full damage suffered by the people of the burned district but it is safe to state that most of the hay in the hills was destroyed. Is impossible to tell whether there was much loss of livestock as authentic reports have not yet come in.
Fortunately there was not loss of life in the fire, which is almost wonderful considering the condition of the prairies. The entire tract was covered by a heavy growth of wild grass, dry as tinder. The fire traveled with such rapidity that is was impossible to form any kind of firebreak to stop its advance. A strip of plowing a rod wide would not have stooped it, as the flames would jump many feet.
Oct 17th, 1907 Grant County News
The terrible prairie fire which swept this section of country yesterday and today has done much damage to the farmers and came very near wiping out the town. Every able bodied man and boy has been out fighting the fire fiend and much property in the country was saved by hard work. Nearly every bit of hay lying between South Shore and Marvin and east as far as Twin Brooks has been destroyed together with considerable grain and some buildings. It is to be feared that some stock also perished in the fire. At this time it is impossible to give an accurate account of the damage done. Will Neckels lost a stack of hay and his flax, Mrs. Busta, her grain, hay and buildings and very nearly her own life and her horses and cattle. Chas. Pfifer also lost nearly everything he had. Mr. Sharf lost about 200 tons of hay and his pasture was entirely ruined. He has two or three hundred head of cattle and is left without any feed for them for the winter. Many others were heavy losers. The fire is supposed to have started on the Potratz farm in Coddington county near south Shore. It is fortunate that human life was not added to the heavy loss as the prairie grass grows rank all over the hills and everything is as dry as timber.
Clem and Lizzie
In 1914 the Pugh family moved back to Mazeppa Township on the old Herman Krause farm, and the Pugh boys started to date the Stoddard girls, Lizzie and Blanche, daughters of Curt and Maggie Stoddard. Grandpa and Grandma were married Nov 17, 1915. Ray and Blanche were married in Jan of 1916. Grandpa rented his first farm from Henry Sharf in Blooming Valley township. After farming the Sharf place for one year he moved to Lura Township on the old Emery homestead. By that time his father-in-law bought the old Lawrence Adolphson farm. It was 320 acres and on the east quarter. He built a set of buildings for Ray and Blanche. John and Julia moved to Summit in 1919. Julia passed away July 27, 1923. John lived with his daughter Kate Morrissey until August 5, 1929. They are both buried in St Lawrence Cemetery at Milbank.