Patrick Pugh
Patrick Pugh
My paternal great grandfather John Pugh came to the US from Ireland at the age of 14 (1855). He worked in New York, worked on the Union Pacific railroad, then moved to Mechanicsville, Iowa where he married. He later moved to South Dakota after retiring from the railroad in 1907. He was brought over by an "Uncle Jim". John sent for his brother James, who ended up in Middletown NY.

Searching other Pugh's who followed the same migratory path, I found a Patrick Pugh and wife Jane, who came over in 1864, with two sons- Francis and Patrick, first found in Middletown NY, where John's brother James lived, then again in Mechanicsville, Iowa where James and John lived. I was able to find church records on son Patrick, who died in Nebraska, and found he was from County Meath. Patrick Sr is buried in Lisbon Cemetery, Iowa- in the same cemetery as John Pugh's in-laws. There is a Jane listed at the bottom of the John Pugh family in 1905 census records. Nothing noted for kinship. My Grandpa Clem wrote that his grandmother came with them to South Dakota in 1907. This maternal grandmother had passed, so I suspect she was his paternal grandmother. I have not been able to find any burial records on her, in Iowa, Nebraska or South Dakota. She is listed as Patrick's 2nd wife on the NY 1865 census records. I suspect she is buried in the Neola Cemetery with the some of my Grandfather's siblings.

John's death certificate shows his father's name as Patrick and family records have his mother's name as Mary Dineen. I checked the online records for Meath County, and found a John Pugh 1842 born to Patrick Pugh and Catherine Dinnany. Patrick Piew married to Catherine Dinnan in 1839. Both are from Parish-District Beauparc. Mary may have been Mary Catherine, as they named their first daughter Catherine, according to Helen Kelly, Irish genealogist.

The death certificate for Patrick Pugh Jr shows his parents as Patrick Pugh and Catherine Dinnany. According to Helen Kelly, there is no proof that John was born in Mayo, as we originally believed, and there are no Dinneens or Dinnany's in Mayo. To find the area that the Irish came from, they usually look at the name patterns. She felt County Meath was more likely. There was a Patrick Pugh and a Francis Pugh in the Griffiths Evaluation- and we visited the exact spot that Patrick Pugh lived before coming to the US. See pictures of our trip to County Meath.

On our second trip to Ireland, we met with a genealogist at Cobh, and he said not to give up on the County Mayo connection. My next step is to investigate the French in Ireland.

Based on this information, I believe Patrick Pugh, buried in Lisbon Iowa, is the father of my great-grandfather, and he had the following children:
John
James
Francis
Kate/Catherine
Patrick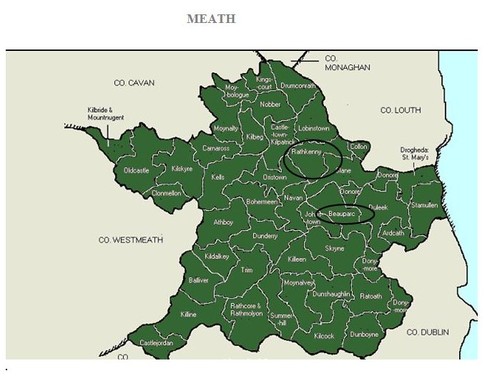 Resting Place of Patrick Pugh
Lisbon Cemetery, Iowa.
Patrick Pugh, d 7 Au 1894 ae. 80 yrs.
Lot 5 Space 1 Next to Pineview Drive