Michael Merritt
The Family of Michael and Mary Merritt
Michael Merritt was born 25 Sep 1817, in County Clare, Ireland.

He died on Jan 20 1873 at the age of 60. He was a farmer, and his religion was Catholic.

He was buried at St Johns Cemetery in Lisbon, Iowa.

In 1852, when Michael was 39, he married Mary C Keating in New York.



Mary was born in 1824 in County Tipperary, Ireland.

She came to America with her family when she was 18 years of age. She died on 23 Feb 1889, at the age of 64. She is buried next to her husband at St Johns in Lisbon, Iowa.



Michael also had a brother Edmund who is buried in the same plot. Edmund left his land to his sister Julia, and nephew Patrick Nihill in County Clare. Based on Edmund's last will and testament and the letter from Michael Nihill in 1863, we believe Michael Merritt's father was also named Michael, and he had at least two sisters, Mary and Julia.
I have not been able to locate any shop records for Michael or Edmund Merritt.

Michael and Mary had the following children:



| | | | |
| --- | --- | --- | --- |
| | Married | Born | Died |
| Ellen B | George W Evans in 1884 | 1853 | 1918 |
| Julia M | John Pugh in 1872 | 1854 | 1923 |
| Bridget | Joseph Fairley in 1879 | 1856 | 1943 |
| Margaret C. | Jacob Sutzin in 1877 | 1857 | 1923 |
| Mary Ann | Never married | 1860 | 1941 |
| Michael | Cecelia Cavanaugh in 1886 | 1864 | 1923 |
| John | Never married | 1866 | 1938 |

Merritt Gedcom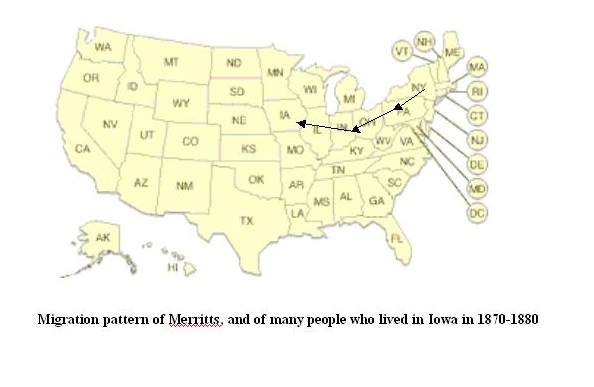 More on My Grandpa's Mother's family
According to my Grandpa Clem, his mother's family came by covered wagon to Iowa from Ohio in the early 1860's. The Merritts are found in Peoria Illinois on the 1860 census.

In 1870, the Merritts are found in Mechanicsville, Iowa.

The two older girls are working outside the home as domestic help. Ellen aged 17 is working in Centre Township and , Julia aged 16 in Fremont Township. Both of the girls were born in Ohio.

Bridget and Maggie were born in Illinois, and the rest of the children were born in Iowa.

So apparently they started west after they married in New York in 1852; living in Ohio in 1853 and 1854 for the births of Ellen and Julia, Illinois in 1856, 1858 and 1860 for the births of Bridget, Maggie and Mary Ann, ending up in Iowa for the births of Michael in 1864 and John in 1866.

In 1880, Mary, John and Micheal continue to live with their mother. In 1885 they are listed as living together on in Section 1, NW 1/4 by SW 1/4, range 4, township 82.

Michael married Cecelia Cavanaugh on Sept 9th, 1886. Mary Merritt died 23 Feb 1889- by that time Julia had married John Pugh (1872) and was living in Weston, Iowa, and Ellen was married to George Evans; living in Audobon, Ia. Bridget married Joseph Fairley and Maggie married Jacob Sutzin; they moved to Minneapolis.

In 1900, Michael owns and farms the land in Pioneer Township, Cedar County. John and Mary live in Greenfield township, Jones County, on a farm owned by John. Mary keeps house for John, and they live there until their deaths. They are buried in Lisbon, next to their parents.





LETTER FROM COUNTY CLARE IRELAND Corlea, March 29th, 1863

My dear loving Uncles: I received your very kind and affectionate letter on yesterday which gave me and my father and mother and all friends the greatest pleasure to hear of you all being in good health as this leaves us all at present thanks be to the giver of all goodness. Dear Uncle Michael, my father went to Garnara on yesterday where Micheal Merritt is in the hospital and he could not exactly ascertain your age. I went to Aunt Mary's and she could not tell it. So my father had to go to Feakle priest and he found it in the registry books.

You were born in the year 1817 on the 25th of Sept. Dear Uncle were were surprised that you did not let us know your reason for knowing your age. We were all so happy to hear of yourself and Brother Edmond being still alive as we thought you were all dead as being so long without sending a line but thanks be to God you are still alive.

Dear Uncle this county is every day getting worse and worse half the farmers are broke in this country. I got to be a teacher in Corlea National School about three months ago and but for that we would be badly off. I have 18 (pounds) a year and my father desires me to let Uncle Edmond know that what is between them that what he promised will be sure to him besides this my father got a letter from a nephew of his from the Cape that he would shortly send him some money.

My mother is not getting her health. She was not able to go outside the door for the last 4 months until now she is commencing to walk about but I am afraid that your letter has turned her back into her illness again. She got overjoyed at hearing at all from you. Give our greatest love to your mistress and to all the children. We are happy to hear of them being so good.

Dear Uncle if you were afraid of being pressed to the war would not you come home for a while and Uncle Edmond would take care of your family and place until you would hear of the war being over. What is the world to you if you were taken there would be no fear of Uncle Edmond being taken and many one are coming home for a while.

I wrote you a letter to _________??? June last and got no answer but I find you were removed before that time. I was in hopes that you would send for me but as I got that situation my father would not let me go.
We will be expecting another letter from Uncle Edmond at the time he promised. All your friends are in good health but doing only very middling but Micheal Merritt I suspect will hardly ever get out of hospital. My mother desires me to let you know that she has your likeness still and will preserve it as a sacred deposit and should she die before she will see you it must be put with her in the grave. She is now in hopes that brother Edmond will send his likeness to her and she desires him not to mind his old manners that your mistress will be kind enough to look after him.

All our family desires to give their greatest love to your mistress and their cousins.
Now my tender and sincere Uncle, myself, and father mother all join in sending their greatest love and best respects to you all. God Almighty protect, sustain and bless you all now and forever is the sincere prayer of all friends here as well as need I say,
Your friend and affectionate nephew, Michael Nihill
We will be all uneasy until we hear from you again for fear you might be taken to the war.
Yours as before, Micheal Nihill
Please direct as before to John Nihill, Corlea, Feakle, Co Clare, Ireland.


Nihills of County Clare Ireland
In 1863, a letter was sent to Michael Merritt from his nephew Michael Nihill, of Corlea, County Clare, Ireland. From the letter, we know Michael had at least 3 siblings: Edmund, Julia and Mary.

Michael Nihill's father went to Garnara to visit Michael Merritt in the hospital to find out Michael's birth date. (The letter insinuates Michael will probably die there). In 1863, Michael Merritt is 46 years old. We are presuming this person is Michael's father.

The County Clare Library resource tells us that in 1901 Michael Nihill still lived with his family in Corlea, Feakle, County Clare, Ireland. We are also presuming that Michael Nihill's father was named "John" since the letter advices to continue to send letters to the attention of John Nihill in Corlea.

Michael Nihill was married to Bridget Gormally (according to film #0979696 -Parochial Registers of Killanena-Clare- 1861-1880). According to the 1901 Clare census, they had at least six children- Anne, born 23 Aug 1875, Julia, born 1877, Patrick, born 22 Feb, 1879, Mary, born 1885, Delia, born 1889 and Cecelia, born in 1892. There are many Nihill families in the 1901 census records, but we have not been able to make any further connections with Irish Nihill or Merritt's at this time.

We find Michael's children, Anne, Patrick, Mary and Delia in passenger lists to America.
Mary arrives in 1903 to stay with a cousin Mary McMahon, who lives at 948 Lincoln Ave in Allegheny, PA. She is accompanied by Annie Leonard, who is going to stay with her brother Patrick Leonard, at 3419 Mulberry Street Pittsburgh, PA.

Patrick and Annie Nihill come over in 1904, to stay with their sister Mary, who is now at 105 Shady Avenue in Pittsburgh. Delia comes over in 1907, accompanied by Michael and John McMahon (most likely related to Mary McMahon). The McMahon's are going to 3419 Mulberry Street in Pittsburgh, so apparently they are also connected with Patrick Leonard. Michael Nihill is found working with Patrick Leonard as a gardener in Pittsburgh in 1900.

Anne Nihill is found in the 1910 census working as a servant for Elizabeth West, a widow from Ireland who lived in Pittsburgh PA. Anne was not found in the 1920-1930 census records.

Patrick Nihill and his family are found in the 1920 and the 1930 U.S. Census taken in Allegheny, Pennsylvania. In 1920 he is married to Elizabeth, and they have 2 daughters, Mary and Frances. They live on "Mignonette" street. Patrick works as a laborer in a mill.

Cecelia and Mary Nihill have not been found in the census records to date. .

Many thanks to Tom Harrer, great grandson of Bridget Merrit Fairley, for a copy of the precious letter and new-found information and research on the Nihill family.


Headstone of Michael and Mary Merritt - Lisbon, Iowa