SURNAME: KRAUSE
Herman Krause
Herman Krause was presumably born in Krumeinfless, West Prussia, Germany. Obituaries of his siblings give Krumeinfless as their birth place. According to their obits, they came to the US in 1885. His mother's maiden name was listed as Pistor on his siblings death certificate and father's name is August . It appears that Herman's father died in Germany, and that his mother was a widow when she immigrated with her children. She married Carl Korth in 1896, and she died in 1900. Burial place is unknown. Herman was the father of my Grandmother Hattie Krause Wohlleber.


Herman's siblings
Herman's oldest sister, Wilhelmina, married Carl Beskow, in Germany in 1876. They came to America and went to Dodge County, Wisc., in 1881 and later to Grant County, SD, between 1882 and 1884. A letter from Bertha Beskow, their daughter, says that the Beskow family brought the Krause's over.
Herman's sister Adeline married Thomas Adolphson, and his sister Mathilda married Nicholas Adolphson, all of Grant County, So Dak. His brother Carl married twice, his wives are said to be cousins, last name Kaaz.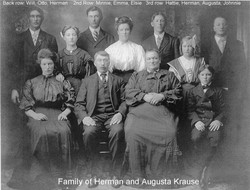 Herman and Gussie Korth
In 1885, prior to marrying Herman, probably prior to moving to SD, Gussie had a baby whose birth certificate lists the father as Fred Yeakey of Wisconsin. The baby, Edwin, was said to be raised by other relatives. He died at the age of 20 of appendicitis. He is buried at Mazeppa Cemetery.

Gussie and Herman married around 1888, according to the census records, in SD, after Herman filed for a homestead in 1887.

Children
Willie Carl: Feb 1889
Otto Herman: Feb 1889
Albert A: July 1890
Hattie Emma: Oct 1891
Emma M June 1893
Herman A June 1893
Minnie L Feb 1895
John Albert Jul 1896
Elsie MM May 1898